Finding the perfect place to shop for groceries for you and your family that you feel are actually organic, clean and safe to eat can be tough. Some grocery stores have an "organic" section and the food looks like its been on the shelf for months, or its just not organic. Located right in Hughes Landing surrounded by great shopping and some excellent restaurants is Whole Foods. Whole Foods is one of the top grocery stores where you will never have to worry about the freshness of the food, or be misconceived about the food being 100% organic! With a variety of fresh vegetables and fruits we can promise you won't be disappointed.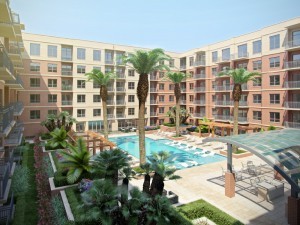 Whole Foods is a great place to get all of your organic foods as well as healthy pre planned meals for your family. Groceries are not the only benefit to Whole Foods, they also offer other great organic products such as The Honest Company diapers and wipes for your loved ones, glass cups and bottles for your babies and tots, organic shampoos and conditioner, as well as many other great products. Whole food serves breakfast in the morning for those days when you're running late, or the convenience for anyone living in One Lakes Edge Apartments. Whole Foods also has a great smoothie/coffee bar where you can get fresh smoothies, protein drinks, excellent lattes as well as your cold pressed juices and vegetable drinks. Anyone living in the luxurious One Lakes Edge Apartments has the benefit of Whole Foods being within a short walking distance, being able to enjoy all the great amenities that Whole Foods has to offer!
Whole Foods is by far the top grocery store that meets your needs, and is very convenient to those living near or in Hughes Landing. Stop by Whole Foods today and see our great deals and amazing lunch specials today!
If you know anybody who might be interested in Whole Foods, please share this post!